That's what my little crew called it, and they were determined to dress the parts. So, this momma stayed up until 3am the
night
before sewing her little heart out.
Selah
really wanted to be Glenda cut wasn't comfortable with the 'witch' part. That's my girl. Instead she
was
the perfect,
ummm
...
Dorafeet
...
The Tin Man was not interested in keeping the funnel on his head, or sitting still long enough to get a good photo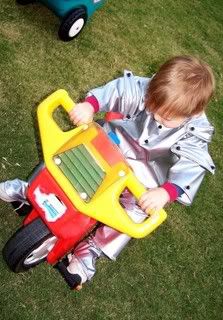 The scarecrow, in copying his big brother, enjoyed throwing his hat off again, and again, and again....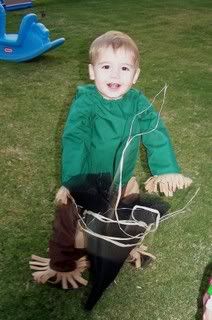 Their cousins, Anna and Samuel, blended in quite well as the Lion and a green version of Glenda? Well, she was Fiona from
Shreck
, but we pretended...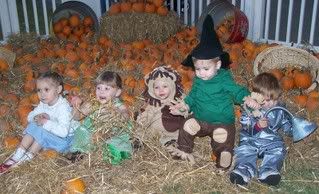 We went to Mount
Paran
Church Of God that evening for their fall festival. The kids actually won part of the costume contest, which made this sewing momma happy. I was so shocked that it didn't occur to me that I should get a picture of them getting their gift cards to Toys R Us. Which, yes, means at some point I have to walk into that dreaded place to use it. Ugh...
So, yeah I guess many people would expect that I would ban
Halloween
costumes in my house, since I ban Santa, the Easter Bunny and the rest of their crew. Ironically I don't feel so strongly about this one. I think that we too quickly jump to calling things pagan and evil without looking at them closely to see if they are transformable. That
kind of
is a spin off of my belief that Missionaries should NOT change native traditions. So many things can be adapted to glorify God. Pagan rituals may be wrong, but to people groups who have never heard otherwise they are a way of life. Wouldn't Jesus USE that instead of crush it. Wouldn't he teach them that the tree itself is amazing and they can rejoice in it's existence and
just
shift the worship to the maker that they now know?
Anyway, I'll leave that be for now. Although it may sound wrong, I feel like banning
Halloween
with your kids can really backfire. I do want to research it and find lessons I can teach them about it, like I did with Santa Clause. But if you take too much away they will become resentful and just crave a freedom that is dangerous. Costumes are a huge part of childhood and their imaginations will dull soon enough. I want their hearts to feel the weight of their play. Don't you remember that? When you could make believe so passionately that it felt like all other reality melted away and the playing was all there was? I've enjoyed every minute of this Lizard of
Boz
phase, and I'll be sad to see it go